Hey everyone! I'm back home after an exhausting trip to Taiwan and Singapore. *jumps in glee at the mention of the word Singapore* Honestly, the Buddhist ceremony was pretty much so-so. We touched down at the Taoyuan International Airport and we rode a van to Taichung for 2 whole hours! That's quite a long way, considering we're travelling on a freeway.

My first glimpse of the first town city we passed by was, WOW! It's pretty vast. IT wasn't until we arrived at Taichung then we noticed how tall those many buildings really were! And it wasn't Taipei or anything. As we neared the city, I cannot help but marvel how buildings take up every nook and cranny of the land.

I confess, I thought Taichung was a backward, rural, ordinary Chinese village. I really have no idea it was a really big, vibrant and modern city! It was also at that time I realised Taiwan is a big island. I always thought it was as small as, say, Singapore. >.<

On Saturday, there was an autograph session where people bought Grandmaster Lu Sheng-Yen's 192nd book (the latest one - and boy, he already had written so many books) and he voluntarily signed the nearly 2500 copies which people brought to him. There could be even more, I'm not sure myself. Before that, there was a short public interview on him and he preached a little (which I forgot myself and couldn't understand some as I couldn't comprehend a lot of his Chinese!).

The only thing I have to bear was having to wait for an astoundingly long time before my family and I can finally get the chance to get his signature on our books! (Like, about a thousand plus-plus people in front of us) It was pure torture (sorry) having to wait for so long! Thank goodness I brought along a book with me, else I think I will drive myself mad. So much for my patience resolution! *grins*

I wish I could read his book as I have heard people saying that he imparted a lot of wisdom in those books. Unfortunately, his books are full of Chinese characters which I struggle to read/is unreadable, and that very setback repulses me from reading. Shame, I'm a Chinese and I can't read most of the words. (I am lucky though. I pity my Chinese friends who can neither speak nor write Chinese. The language itself plays our integral self-identity.)

It was too bad the novel I was reading had sort of "suffocated" my interest and before I knew it, my brother and I went exploring around the Lei Tsang Temple. Oh my gosh, that place is SO huge! There are so many beautiful and intricately made Buddha statues displayed in front of us, and I hadn't the foggiest idea that there were so many! Pity I only know a few myself. =(

When we went upstairs, we were greeted by 7 two-storey high statues; four of them were different variations of Quan Yin and one of Amitabha Buddha. I don't know the English names for the other two, unfortunately, but I definitely recognise them. I felt like a dwarf when I stood in front of them! But they were beautiful, very beautiful indeed!

So I immediately prostrated and did err...how do you call them...hand gestures (?). Okay, I honestly do not know how to say it in English! I wish I knew how to call them, but sadly I don't. Guess I'm not a really devoted Buddhist after all...

There are also big murals of Buddhas behind the temple at the second storey which are yet to be coloured, I assumed.

After my little exploration around the temple and after long, gruelling hours of waiting, it was finally our turn and yeah, I was happy! =D I can finally get my book signed, go home, rest up and wake up to a big prayer tomorrow. I was happy to see the Grandmaster up close once again. Boy, he didn't age at all since the last time I met him face to face (and that was like how many years ago already!). So he signed and blessed me by touching my head with his hand (thanks!) and yeah, we headed back to our seat and waited for the whole thing to finish.



My signed copy. Horray!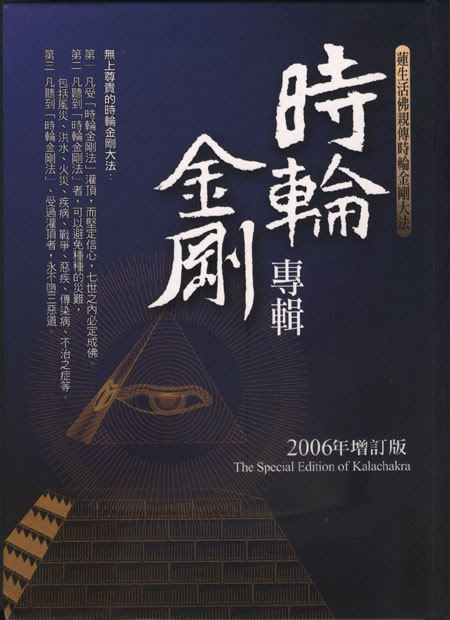 The book cover. It's called the 2006 Special Edition of Kalachakra. Nice, isn't it? ;)

When he was about to make a majestic exit, there was a frenzy of activity as people rushed to stand by the pathway waving him goodbye (it was like they were his biggest fans devotees or something). I don't know why I was thinking the wrong way, but I was thinking that they wanted to seize the opportunity to receive his blessings or something which is kind of greedy. After all, he is a living Buddha, so I guess I can understand that!


The next day was the big prayer which was known as the Kalachakra ceremony. Some fascinating acrobatic and dramatic shows took place near midday, people getting excited and reverred by the Grandmaster's arrival, and boy, was the temple packed! I heard that about 30 000 to 40 000 devout followers were present at the temple at that time (so you can now imagine how big the temple really is, and how crammed I felt!).

The ceremony took off with a bang as confetti and balloons shot up into the air, and everyone gave a tremendous applause. The ceremony began with the formal introduction of 2 kinds of monks and nuns (上师, 法师)of the True Buddha School. Following that is the swearing in of new monks and nuns as they formally entered priesthood. There is a word for that in English, but I forgot. How it was done was pretty interesting. First, the monks and nuns shave their head, leaving a patch of hair on top of their head. (Yes, annelisa, the female nuns do shave their heads =) ) The Grandmaster then read out the "terms and conditions" in entering priesthood, confirming with them their actions before proceeding. Then, as they got up the podium where the Grandmaster sat, he took a shaver and shaved the last of their hairs. They thanked him by putting their hands together and bowed, and after that got down and prostrated. They then did the hand gestures thingy (once again, I don't know how to say it in English).

Okay, so after that, the prayer began. I don't think I need to elaborate on this, but I'll upload a PDF of the very short and simplified prayer book for your viewing pleasure. Please take note everything's printed in Traditional Chinese. Forgive me for not providing with a translation as I can only struggle to read a few words.


The Kalachakra Prayer Book, distributed by the True Buddha School at Lei Tsang Temple in Taiwan. Note: This file is in

PDF

form. You need Adobe Reader to read this file. You may want to right-click and save for viewing convenience.
Don't worry, my mom taught my brother and I how to pray the most important ones while we were young in the car, every day on our way to school. So they are all pretty much in my head. They are further reinforced as my mom goes through her daily prayer routine each and every single morning without fail. And that, I have to salute her! Honest! It's something to marvel at.
Unfortunately now, I don't pray consistently. =( I'm such a naughty kid. =P I even have to lie to my mom a couple of times when she asked me whether I pray every day or not, even though she knew I was lying.
Hahahahahaha! But seriously, I should pray more. It's just only 5 minutes, like what she guaranteed me.
After that, the Grandmaster preached to us about what the chanting of Kalachakra meant. He explained to us each of the ten words, i.e. Om. Ha. Ka Ma La. Wa La Ya. So Ha., that make up the short chant, which we have to, well, repeatedly chant over and over again! =) I forgot what they each mean though (I blame myself for not paying much attention and not understanding Chinese perfectly), but I remember them being pretty useful!
Then came the part which I loathe the most, the blessing. Why should I loathe it? Aren't all blessings meant to be good? And it's free, and the Grandmaster was kind and patient (!) enough to bless all 30 000 of us! Well, it's not actually the blessing, it was more like the people! Large numbers of them. We're talking about tens of thousands of them! I am not really a misanthrope, but with people surrounding you north, south, east and west, and you are cramped from all corners by bodies, and you are feeling tightly packed, what more with the rudeness of people shoving and pushing and squeezing their way through you, giving no damn to children and the elderly, and the fact that you need to wait for a long time before your turn comes - it doesn't make a pleasant experience.
In short, everyone wanted to be quickly blessed and go home.
Thank goodness the Grandmaster taught up of something clever. He transferred his blessing powers to hanging scrolls of Kalachakra's portrait (at least that's what I think it is) and all people have to do is the walk under them and touch them, and there you have it, a blessed new you! =D
Boy, it was really exhausting when I finally got back to the hotel after dining out at a restuarant for dinner. Thankfully, my mother knew one of the nuns personally, and she sort of got a permit for our cars to go up to the mountain. Yeah, the temple is resting on a mountain, not on the peak though. =P I really pity the poor guys who have to walk all the way from metres from the foot of the mountain up the slope to finally reach the temple. I felt that it was really unfair to them that we got a quick ride up without exerting much energy.
I will continue chronicling the days I had in Taiwan tomorrow, or on Monday. Tomorrow's going to be a very busy day for me. I have to wake up early morning to attend a BIG family reunion tomorrow, paternal side. According to my dad, about 200 plus relatives will turn up tomorrow. I have no idea I have SO MANY relatives. And I don't know them! Hmmm, this might be the perfect opportunity to do so. Then again, I might be shy, and not talk. =(
And then, a V.V.I.P. (my mom's boss) is coming over to my house tomorrow to have lunch with us and my mother to discuss certain things. Then, in the afternoon, I will have swimming classes once again, and I definitely am not looking forward to it. I have missed my lessons ever since nearing the end of November all the way till now, and I did not swim much at all. This is bad, I will so struggle tomorrow. Oh well, wish me luck!
I see you guys later! =)