| | |
| --- | --- |
| From: | that frolicsome kid |
| To: | Whom this may concern |
| Date: | 10 May 2007, 22:25 |
| Subject: | Perfectionism |

A Disney Channel Original Movie called Pixel Perfect aired last Sunday, and as the title suggests, it deals with, well, perfectionism! A boon and a flaw of mine. I guess it also plays the biggest factor behind my notorious bad habit, procrastination.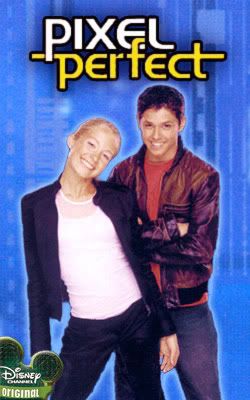 When I watched this movie, I can empathise with the main characters very well, particularly Samantha who was envious of Loretta's perfectionism. The irony is that Loretta herself isn't real, she's the ingenious hologram conceived by Roscoe. Overall, the movie itself was pretty good - it talks about the journey to humanity of a hologram, it talks about introduction of holographic rock stars, it talks about relationships and the boundary between reality and fantasy. However, the very issue I want to give my ten-cents on is perfectionism almost achieved by Loretta.

Actually, Samantha was pretty jealous of Loretta and her perfection. I can fully relate myself to Samantha who was envious of that pixel girl. Sorry to say this, but I dislike people who seem to be perfect: perfect in every aspect; Jack of all trades, master of all. Especially when the person has strived perfection in the fields I am trying to excel in. I will really get in the dumps with my self-esteem and self-confidence crushed and contemplate how he/she has done it without breaking a sweat.

That was exactly how Samantha felt in the movie about Loretta. Her band was looking for a lead singer as she herself was perceived as a "substandard one". Little did she know Roscoe has unintentionally created an uber-holographic singer who would steal all the limelight from her besides overshadowing her and suppressing her role heavily. Don't you feel uneasy when suddenly, a new person comes into the office and does exceptionally well in jobs you are good in? And you thought you were good. Your successes are overlooked by the manager in favour of that new guy. What more, she is talented and a master of your favourite hobbies and having the temperament of Mother Theresa!

Boy, as much as I love and admire her (if she exists), I would dislike her as much. I never told this to anyone, but sadly, I can be a finicky green-eyed monster. I won't let anyone get in my way of achieving perfectionism, an intangible thing once fulfilled is like nirvana! I just to show everyone my talents and abilities. It's a bummer that there is always someone out there who is better than me. No, I won't be so evil as to go all the way to eradicate that person, but I would certainly feel uncomfortable and very let down.

On the other hand, if I were perfect, I'll breeze though everything and my life will be smooth. On the downside, I am pretty much putting myself in harm's way. I will be scorned at, disgraced, looked down on etc. People will be jealous of me too and that doesn't make my life any easier either.

Alright, maybe I should just accept my flaws and probably work to improve on it. It's only human to err. Even then, I will eventually reach a limit when I can no longer be better. It will be the best of my capabilities and I guess there's only so much one can do.

Speaking of self-improvement, jealousy or admiration of other's achievements do contribute to my motivation of improving myself and tempting me to set mammoth and impossible goals and tasks. Sometimes though, I cannot help but do that, especially when I jolly well know that it is within my capabilities. What makes matters worse is that I am a Jack of all trades but not really a master of anything. All I want is to be extremely good, bordering the best, in something.

*sigh* That is very greedy and selfish of me to have so many talents and abilities. =( It's a shame that it is so much easier said and done. Sometimes, I just wish that I can have them all with just a snap of my fingers, but of course, this is no Aladdin story. =P

The path to perfection is a blessing and a very big curse as well. It shows that I care a lot about my work but it also shows how distracted I am whenever mistakes pop up. It also gives the impression that I show too much redundant meticulousness and wasting my time over something "insignificant".

Perfectionism also explains my reluctance of taking the first step of doing anything. Annelisa sums it up as avoidance. Yes, perfectionism tempts me to get everything right the first time. The problem is my plans conceived are not always good. That sets me back further.

Fear of erring. Fear of failure. Fear of outcome. Most significantly, fear of the unexpected. =S

It shatters my dream of achieving anything. Perfectionism. *shakes head* I'm not used to making "mistakes". I fear encountering them. I try to shy away from them. But ironically, without them, how will I ever learn things?

Samantha tried to mimic Loretta to impress everybody. In the end, she had a horrible fall and she went into a relapse. She was later rescued by Loretta. Sure, Loretta was flattered but she herself longs to have a sense of touch and human emotions. In the end, it goes to show that nobody is indeed perfect.

Hmm... I seriously shouldn't let perfectionism get too much in the way of my life. I wish it could stop right now! I really should start appreciating whatever abilities and talents (if any) I have right now. Now, when comparison meets perfectionism, then the REAL trouble begins.

You are looking at the victim.