I discover a funny thing. When it comes to art, I don't give a care about perfectionism and I just let it flow, allowing my emotions to dictate my hands to create abstract art, capturing the very moment of my emotions. A wonderful thank you to Annelisa who tagged me. Take a look at her drawings, they're pretty nice!

Although I have no artistic license, I came up with this at JacksonPollock.org. I think it looks mystifying. =D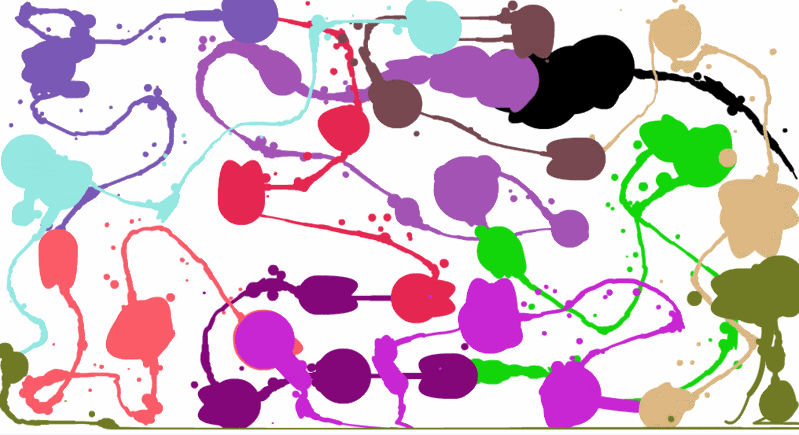 My description:

Tunnel of colours with swollen nodes.

Squiggles criss-crossing one another to form a super information highway, with nodes signifying computer terminals and the lines network wires.

Chain of flowers sprouting from stems and from inside the flowers sprout new plants.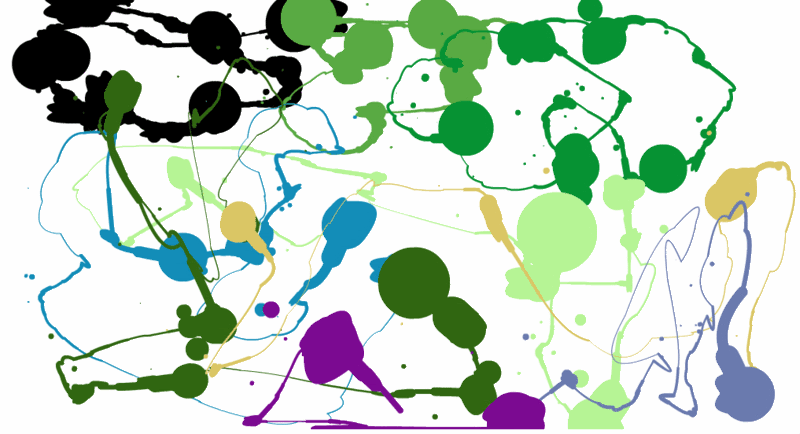 My description:

Kid bending down, fascinated by an intriguing purple-looking unidentified object in a colourful forests of colours, with two tributaries flowing through it with high velocity.

I want to share a couple of pointers here. When your cursor touches the screen, immediately a splodge of blank ink will splatter from beneath the cursor. Let your hands move free since you can't really control it. You'll find that, ironically, you have much more control over your drawing. =P

Once you are done, don't forget to move your cursor away from the drawing board, Print Screen it and edit it with your favourite graphics design software, like Paint or Adobe Photoshop. Then showcase your artwork to the whole world via your blog! Of course, this leads to me tagging:






Hyak hyak hyak! *evil laughter* It'll be great if EVERYONE, besides the tagged ones, can try this out. It's really fun!
Next, another tag by
whenn
. It's the birthday tag! I don't wish to reveal my birthday as I think it will
jeopardise
my identity. Nevertheless, you can try and find out. ;)
Instructions to follow:
"Basically you have to type in the day and month of your birthday in Wikipedia and then list 3 events that happened on that day, 2 other birthdays on that day and 1 death. And then you have to tag 5 other bloggers. =)"
3 events:
1928 - The Republic of China is recognized by the United States.
1998 - Google is established.
2002 - Timor-Leste (East Timor) joins the United Nations.
2 birthdays:
1984 - Avril Lavigne, Canadian singer-songwriter
1992 - Jake Burbage, American actor
1 death:
1986 - Cliff Burton, American musician (Metallica)
I'll be tagging:





;)
Sorry if I have been inactive in the blogosphere; studies have taken up a lot of my time. =( Just to let you know, I am highly considering going cold turkey for at least a week. I think the Internet has really led me astray and I feel a pressing need to unplug my modem now! =(
Or it would be easier to limit my Internet usage. Half an hour a day! =O Hahahaha...
By the way, I haven't forgotten the tags by
Irish Church Lady
and
Sanni
. I will get round to doing the memes definitely. ;)