| | |
| --- | --- |
| From: | that frolicsome kid |
| To: | Whom this may concern |
| Date: | 1 December 2006, 15:00 |
| Subject: | NaNoWriMo Post-Mortem |
Today is such a joyful day, the bright sunshine brightening up my Friday today. Today's 1st of December, and NaNoWriMo is officially over. I'm really happy that I was able to end up with 50,056 words a few minutes shy of midnight today. I would like to share my NaNoWriMo experience with everyone, and tell you guys my testimony of it.

So, how did I do it?

Honestly, I have no idea myself. I just write spontaneously with a vague plan in my head, and that's it. I also let the story lead me.

I began writing my first 10,000 words during the first week of November, and I wrote my story casually with many pauses and some deep thinking. At the end of the week, I had to go off to Sabah for an excursion trip with fifteen other students which was organised by my teacher. When I came back, I realised I was a few thousand words away from the recommended goal, and I was feeling discouraged. As the days wore on, I watched in horror as the recommended word count goal increased and I was still stuck, roughly about 10,000 words behind. If only I knew I can make myself write 8000 words...

At the end of the two week hiatus, I could not stand not doing anything to my story and NaNoWriMo and I told myself, "Hey, I have written a good beginning to a story, why stop there and moan and groan about how I cannot reach 50,000 words?" So I decided to do something with it and began to pick up my story and continue it. I saw that it still wasn't too late to do catch-up. The total number of words still did not hit the expected word count though.

On the 25th, the NaNoWriMo website has opened to all the word-count verification for the 50k-ers to submit their story and officially claim themselves to be winners. That's when I panicked. I had completed 30% of my goal, and already people have reached the goal! I picked up my writing speed, but at that pace I was going, it still wasn't fast enough to reach the goal.

On the 27th, I took the deep plunge. I literally forced out the 8000 words from my very soul. And I did it! I actually did it! It was incredible, I tell you. It was a feat I never knew I can do it! But I did! Amazing.

And I tried again on the last 3 days. My brain juice was already fizzling out, and that didn't help when parts of my novel are also stagnating (they're mostly the transition parts in between the major scenes of Kinderella).

And I wrote, and I wrote, and I wrote. I participated in 30-minute word wars as well with fellow NaNo writers, as a form of motivation. And guess what? I found out I could type out 600-800 words per session, give or take. I wowed at my own hidden ability and potential.

And finally, at the last day, I wrote full-force and whammed, I slammed my own record. 9371 words in a day! That is really a lot for me. I was so overjoyed when I was able to hit 50,000 words by 11.50++ p.m.

In one word: Incredible.

I have to thank my school for closing down early for renovations, and thus have my holidays early. So I have spent part of my holidays writing out a novel. Yay, talk about being productive! Else, I won't even write at all!


What resources have I used when writing out Kinderella?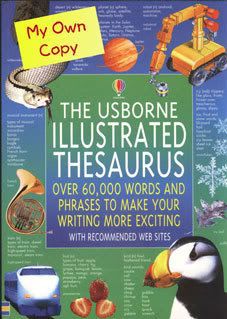 I really recommend you guys to buy this illustrated thesaurus from
Usborne
. It's called
The Usborne Illustrated Thesaurus
and what makes this thesaurus so different from others is that they contain lots of pictures that you know what it is but don't know how it's called. And they also group related words that belong to a certain category, e.g. dance words - boogie, bop, dart, glide etc.
See the sample page
here
and you'll be the judge.
I wish I read through and briefly study this book before my NaNoWriMo quest. Then I would have more or less some ideas to breath fresh words to dead, boring sentences. Anyway, this book is just amazing, it helped me a lot for NaNoWriMo. I suggest you buy it too, it's worth your every penny and it helps a lot in your writing.
I find myself constantly referring to
Wikipedia
when it comes to describing a certain event, a scene and even refresh my memory on the story of
Cinderella
.
What has motivated me to write 50,000 words?
A desktop looking like this:-
Word wars over at the NaNoWriMo forums and of course, you wonderful blog readers who pushed me and motivated me to write with your words of encouragements. Thank you so much guys! I couldn't do it without you!
Oh yes, and my little brother also played a part. He sneakily took a glance at what I was writing when I was downstairs for dinner. I then asked him for his honest opinion on my novel, and he told me it was "So good, man!" after hearing him saying "That is so lame!( =P )" etc. etc. etc.
Most importantly, did I learn anything out of NaNoWriMo?
Definitely! For one thing, I have gained the sheer experience of rushing against time and came up with an incredible number of words. It was unbelievable! And of course, I discovered that I CAN write. And also, I learned that procrastination was the main obstacle that has nearly caused my downfall, but I have risen against it and have beaten against all odds. I was hoping that NaNoWriMo could help me crush my bad habit of procrastinating. It did, but only a bit. But still, that's great.
Procrastination has its positive effects too, for me. When I decided to write, I realised that time was running short, and the deadline is pressing on me. Because I was placed under the pressure of finishing 50k words, I was able to write a lot more beyond my expectations and definitely well beyond my normal limit. I don't really like doing that though, the quality has suffered in favour of quantity. I find that the later chapters I have done is a little bit messy and "illogical". I need to edit them a bit before uploading them.
Oh yes, from writing so much and with the help of the thesaurus, I learned to make use of new vocabularies along the way and expanded my active vocabulary list. Writing out so many words also make me see that my current vocabulary still has room for expansion, and I will try over these holidays to broaden it.
I also learned a thing or two about describing fashion. Hahahaha! That's really cool.
I've made a mistake in the beginning of the novel though and that is skimping on the description of the main characters' appearances. How they look like, what are they wearing etc. The rest is pretty okay, I guess, at least I did convey their personality out. Self-reminder: describe first!
I have to go out to parties. No wonder I struggled pretty badly with the ballroom scenario. Hahaha!
Ever since experiencing NaNoWriMo, suddenly the 300-600 words compositions that I have to write in school seemed pretty little. And this is good news to me, it boosted my self-esteem a lot! And I wouldn't need to groan so much about the
Royal Commonwealth Essay Competition
which my English teacher would me to write an essay.
Through NaNoWriMo, my writing style has undergone minor/drastic changes. I don't know whether it's for good or for worse, but I know that I'm writing things a little bit differently now.
This is pretty much what I can think of at the moment to write. My brain is ultra-tired now after writing huge chunks of text the past five days. Sheer terror. But I'm glad I have done it. I feel like an accomplished man! Yahoo!
I shall put my novel aside for a few days and I'll pick it up whenever I am ready.
Chapter 7
is found below this post, so check it out!
P.S. Congratulations to
Happy and Blue 2
who consistently posted throughout the whole month of November in conjunction with
NaBloPoMo
. Great work! Take a look at all his
November blog posts
, starting from
November 1st
!