| | |
| --- | --- |
| From: | that frolicsome kid |
| To: | Whom this may concern |
| Date: | 6 November 2006, 17:52 |
| Subject: | Life is But Hollywood |

Today, I woke up early (at about half past seven), dressed in my school uniform and rush off for an exciting morning. No, I did not go to school! But instead, I went to the town's mall! And why am I there so early in the morning with all the shops closed and wearing a school uniform when clearly it's our holiday?!

It was for a holiday school excursion (boring!) for educational purposes (?), which was planned and proposed so that our 'idle brains' won't rot and decompose during the extra-long holidays.

Oh yea, I guess I ought to tell you guys how long this holiday is. It's going to last for 3 whole months because our school has sought permission from the MoE to carry out renovation etc. So our term holidays in December has been stretched! Yippee! Yippee! Yippee! Horray! Rejoices!

Too bad when school reopens, we will have classes during Fridays. Nothing is wrong with that, right? Well, yes! In my country, working days are from Monday to Thursday and Saturday. Fridays and Sundays are our days off. Unlike most countries in many parts of this world, Friday is reserved for Muslims to pray (it's like their Sabbath day). So we don't work/go to school on Fridays, but instead Saturdays. And since we are going to have school on Fridays, that means 6 whole days of pure torture schooling in a stretch! School will probably let out early though for Muslims to carry out their prayers.

Anyway, so I went to this big and empty mall in town which has cinema. The plan was for us students to watch 2 movies of "educational value" at a very small price, $1! That's equivalent to about US$0.50! Talk about really cheap! I mean, what the heck, why should I miss out this opportunity of enjoying a movie marathon at such ridiculously low price! I seriously need to thank my teacher who knew the proprietor of the cinema and managed to get concession prices for us kids!

Movie watching was never that cheap! I'll say it's once in a lifetime!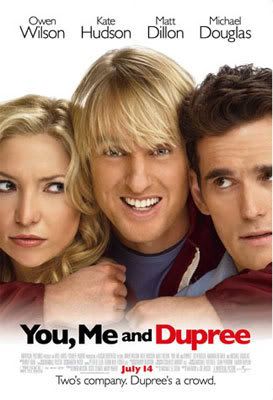 It was decided that everyone should watch You, Me and Dupree" before watching another movie of their own choice later. I never regretted watching that comedy movie, it's really hilarious! I seriously cannot imagine inviting my best friend who is a vagabond to come crash in my house with my wife and I. And this movie created exactly that scenario! How a best friend actually can mess up your whole house when there is leniency. Also, it teaches me how marriage can just fail if you aren't careful enough. And there are some really funny dirty scenes in this movie (nothing too dirty to bar your kids from watching this movie). A must watch if you are planning to go to cinema!

After an hour and a half of incessant laughing (not really!), students divided themselves into 2 groups; those wanting to watch Open Seasons and those who prefer The Devil Wears Prada instead. I decided to watch that 'chick flick' since I have heard rave reviews from friends who have watched that movie. Okay, I admit, I sort of like watching chick flicks after cartoons. Hahahaha! I take the opportunity to watch such shows as I don't really watch them. And the devil's fork in the red stilleto grabbed my attention.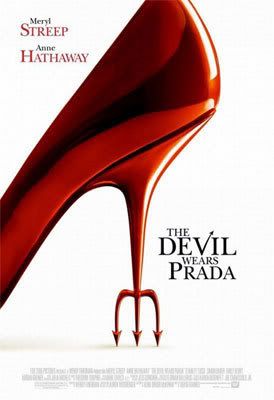 This show is good, and I want to give notable mentions to the seriously extravagant fashion designs, the wonderful clothes, the fantabulous accessories and the wicked ladies; boy, are they wicked! I like the beginning part though, where they show 3 unrelated ladies' daily tasks early in the morning, i.e. wake up, changing clothes, breakfast, commute to work. I'm not sure how the other 2 ladies besides Andy (the main character) fit into the story though. I don't remember seeing them. But nevertheless, it still was a good beginning.

This movie's about how some university graduate wannabe journalist grabs a job working as the assistant of Miranda, the owner of Runaway, a fashion magazine. Her job was one of those which many girls would die for to work. The first impression I got when watching the movie was "Why was there so much bitchiness?" No offense, but that was how it was portrayed. But soon, I realised that it was just what the movie depends on. Man, that Miranda actress is really good for being really evil that can drive anyone, even Andy, mentally insane.

That was Andy's major setback, and being an aspiring journalist, she feels that this job would help in her journalism career. So she face many trials and tribulations in her job and her friends until finally...

I think I shall stop there. I don't want to give the spoilers out. But yea, it's quite a good show to watch if you haven't read the novel yet. My friend said that the movie wasn't what she expected (that means, she found the movie only so-so). I did some research on Wikipedia and found out that there are some differences between the novel and the movie. That's interesting! Maybe I should add the novel to my shopping list the next time I go visit the bookstore.

And that was how I spent my morning, watching movies! It was loads of fun, especially if you watch it with a large group of people whom you know.

And now, for the NaNoWriMo dissection! I've just realised that I'm 2000+ words behind the daily word goal. This sucks, lol! I am going to spend my time tonight on editing my Chapter 2 (the chapter's pretty messed up and vague, and if my beginning was messy, the story flow will be spoilt) and finish up Chapter 3 as well. I just realised I actually forgot to describe the looks and physique of my characters. How could I forget! Hahaha...

It's just great that I'll be off on Wednesday for four days to another school excursion to somewhere out of country. The trip promises loads of fun though; let's hope that it is! So Chapter 2 will probably be up tomorrow instead of Saturday depending on circumstances. ;)

Man, I just realised I need to pack my luggage. And then there is this computer quiz rehearsal again tomorrow morning. What an utter dud! Let's hope I can make it through tomorrow.

Oh yes, I hope I'm not too late for saying this. I've stumbled upon Mimi's blog a couple of days ago. And it seems like tomorrow's Dona Nobis Pacem Day (the Grant Us Peace day), and she hopes that other bloggers will dedicate tomorrow's post on world peace. Which I think it's really cool and awesome. It's like promoting world peace online peacefully, through blogs. I hope you guys can participate in it too.

That's all for today, I will talk to you guys later tomorrow! See ya!