| | |
| --- | --- |
| From: | that frolicsome kid |
| To: | Whom this may concern |
| Date: | 19 August 2007, 11:20 |
| Subject: | My Motivator |
I think I have finally found a motivation to excel in my mocks. This is it! Are you ready?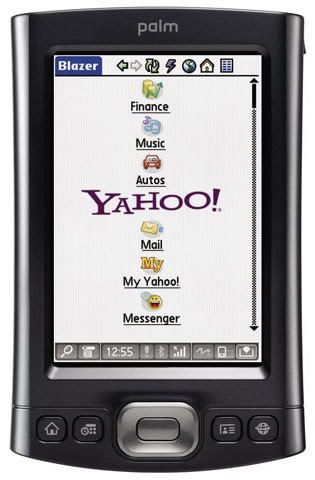 Hoo boy! It doesn't get better than this. Behold, ladies and germs, Palm TX! Notice the amazing geometry and solid piece of technology. It's perfect from every angle. Sleek, beautiful and black. It's so much better than a mobile phone - it doesn't ring! =D

The local newspaper yesterday featured an article on the Sony Reader. Initially after reading it, I actually wanted a Sony Reader (an e-book device). I thought it will be nice to purchase good e-books from the Internet instead of relying on Amazon.com or going to the Australian Borders branch during my December holidays (I hate waiting! =P). Lugging 10+ books back home is no easy task! Besides, the bookshelf at home ran out of space.

Unfortunately, it is only available for sale in the United States. (I wonder why they feature that article if that's the case.) Many months will have passed before it hits the local market and by then, a new version could have probably come out. It may be cheaper than a Palm TX but too bad it's monofunctional. It is great to read an e-book for a long period of time without worrying of dead battery, but it is worth spending a few hundred dollars on a device which I can only read an e-book?

So I decided to procrastinate sacrifice my study time to look for a perfect computer device which is small and light enough to read e-books while I can still perform other things using it. Naturally, PDAs fit the criteria. So I went wiki-ing for devices as well as window shopping at Amazon.com.

I found Palm Z22 which is more affordable. However, the local online e-store does not sell it. However, of all PDAs, they are selling a Palm TX, which is No. 1 on the Palm bestseller list in Amazon.com. I cannot believe my luck and utter joy. And it's a steal as well. It's cheaper than the list price at Singapore. (By the way, it's sold for about US$330.)

I can't believe it. I am so tempted to use my mom's credit card and make a purchase immediately when I thought why not make it as a source of motivation? If I can score good results, then I will burn a hole in my pocket and buy myself the Palm TX.

And that's that. I so desire one now!

Being a smart shopper, I did a little research on this nifty technological gizmo. There were rave reviews about it. Of course, it can display e-books, it is a diary planner and has all those calendar options (I like it! I keep a diary planner for the purposes of homework) and the battery can last for a good decent hours.

Getting a Palm TX comes with a hefty price. I shall write an amateur poem to describe my predicament:
Aggregate: 18
A2s and B4s
3 of each
coupled with moolah
Palm TX
Glittery and shiny
Then only it shall be mine
Mine, mine, mine!

N.B. A2 = 85 to 89; B4 = 75 to 79. Aggregate is the sum of the numeric grades of one's best six subjects.

So it doesn't rhyme, but hey it gets the message across. So I better buckle up and start working for it. I want to be a proud owner of Palm TX! It's pretty materialistic of me, but I'm really desperate.

On the other hand, I think it's kind of impossible because I haven't been studying much lately. I'm slackening off so badly. I wonder what's wrong with me. =(

Anyway, come to think of it, I have never had a source of motivation to study. This is my first time to study for something - to get a reward in the end. This time, my reward does not only come in the form of good grades and pride, but also, for the love of Palm TX.

Wish me luck!

P.S. If you are a user of Palm TX, tell me what you think of it. ;) Do you think I should get another PDA other than Palm TX?